State Line Bag Co. is proud to offer our Wholesale Burlap Bag line.
CHECK OUT OUR NEW LOWER PRICES!!!
Bulk Burlap Bags & Small Tote Gunny Sacks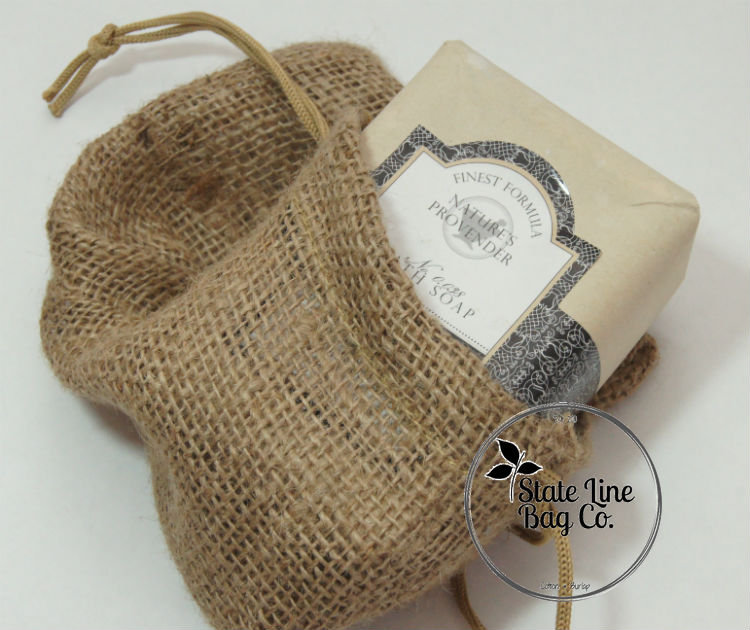 Burlap is a timeless fabric that is sourced directly from the jute plant. It has been in use for centuries and found it's beginning in India and Scotland. Jute Bags & Jute Sacks are made of one of the strongest natural fibers on our planet. It is also a renewable source that grows quickly and in abundance. State Line Bag Company uses burlap sources that are grown organically, and we manufacture our bags in the United States.
One of the greatest qualities of our wholesale burlap bags is that they are biodegradable. Because it is a natural fiber, burlap will eventually degrade back into the soil. You can feel confident in using these bags because they won't clutter up landfills for years and years.
Why buy from State Line?
State Line Bags offers several sizes of our bulk burlap bags. Our smallest bag, 3.25" x 5" is perfect for jewelry, small gift bags or tradeshow giveaways. Our bags also come in 4" x 6", 5" x 7", 6" x 8" and 8" x 12" with a single or double drawstring options.
When you order small burlap tote bags from State Line Bag Company, you can feel confident you are getting a quality product. We offer custom printing on our cotton bags through an easy process. Orders placed today will be shipped tomorrow. We ground ship to the 48 contiguous states. Our burlap bags are natural in color and create a unique look when your company logo is added. They are great for school events, fundraisers, product packaging, and giveaways. The sky's the limit. Call us anytime with questions or orders.
So many uses for our wholesale burlap bags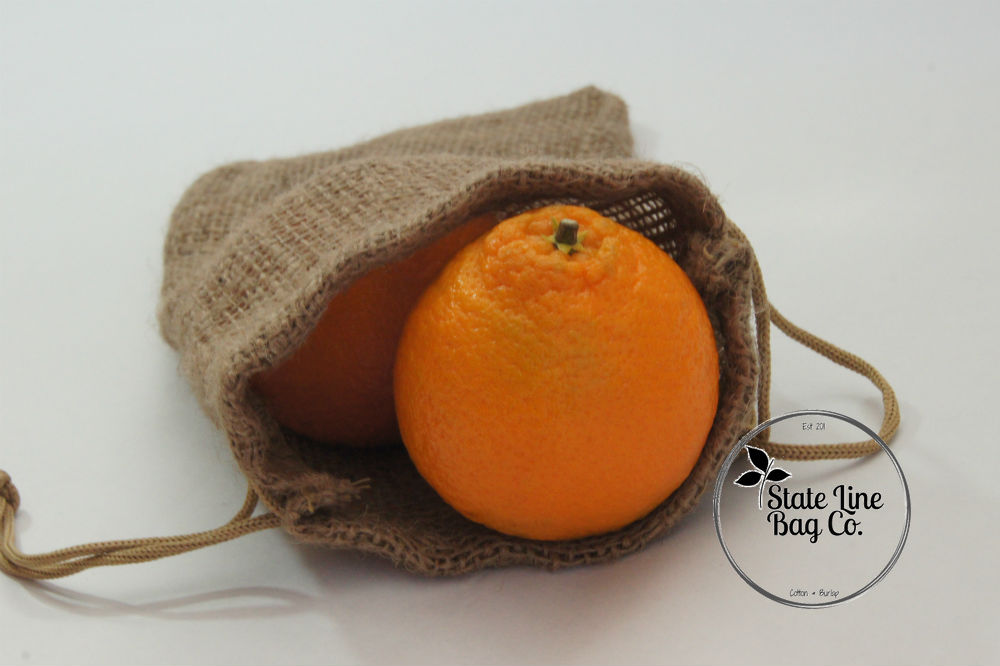 You are only limited by your imagination. There are countless uses for our high-quality jute burlap bags. Having a stash on hand it the best way to be prepared for any occasion. Burlap bags are a staple in the crafting world. They are perfect for any holiday. You can stuff them with treats like candy, gum, trinkets, and mints. You can give them filled with homemade desserts to neighbors for holidays or as a "Welcome to the hood" gift. They make the perfect container for teacher gifts, Valentine's or just a "thinking of you" token.
Kids can create custom designs with markers or paint on our bags. They make a wonderful school activity for parties and holidays. Just a simple ribbon can dress them up enough to make it personal. With the popularity of barn wedding on the rise, our burlap bags are perfect for table decor, wedding party gifts and out of town gift bags.
Small Tote Burlap Bags for your Business
Our burlap bags printed with your company logo make the perfect go-to container for samples or gifts. Bring them to trade shows and stuff with your business cards and pamphlets. The best part is your clients, and potential customers will be left with a lasting keepsake with your logo on it.
If you ship your product to your clients, consider our bags for packaging. You will convey a high-quality standard when their first impression is our burlap bag. If you product is organic or made in the USA, our bags reflect those same values.
Call us for ideas or suggestions. It is our goal to make your product shine in a world full of competition. State Line Bag Company is ready to partner with you to create the perfect packaging for your product.